The American Heart Association estimates that over 350,000 Americans will experience cardiac arrest annually while at home, work, or play. Over 80% of those will be fatal.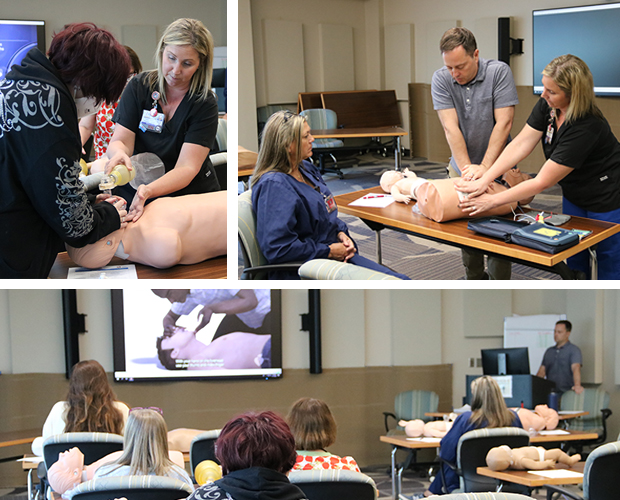 Are you prepared to offer life-saving assistance to friends, family or co-workers in a medical emergency? Starting in August, the University Health Center (UHC) will offer Basic Life Support (BLS) certification to the public. This important training provides instruction on Cardio-Pulmonary Resuscitation (CPR) for adults, children, and infants, and includes modules on using an Automatic External Defibrillator (AED), assisting choking victims, and stroke recognition.
The American Heart Association course is often required for employment for healthcare providers, lifeguards, educators, and many other professions. Even for lay persons with no intentions of working in the medical field, this life-saving training can make a difference in the life of another person.
"There is no doubt that bystander CPR saves lives. In my 40+ years in the medical profession, I've seen many instances where CPR started by family members or bystanders, prior to EMS arrival, has resulted in positive patient outcomes. CPR or compression-only CPR combined with an AED offer the best chance for getting the victim back," says Len DeRamus, a Physician Assistant on staff at the University Health Center.
Courses will be offered the second Wednesday of every month at the University Health Center and will be taught by medical professionals. In addition to BLS training, plans are to also offer HeartSaver certification. Commonly called "hands-only" CPR, HeartSaver training is less intensive, but still teaches the important steps needed to offer assistance to victims of a cardiac arrest.
Pricing for the BLS course is $65, and includes the student manual, hands-on instruction, and a certification card.
To sign up, register online here. For questions or concerns please call 706-542-8707.
Written by: Steven Rose, UHC Marketing and Communications