Intro to Therapy Assistance Online (TAO)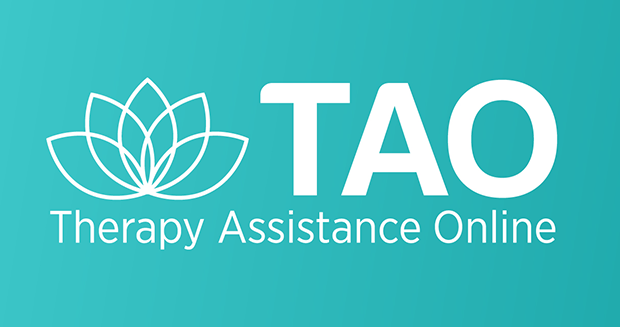 Adjustment to a new environment, a new semester, or even a change in weather can affect the way we think, feel, and act. There are so many stressors, external and internal, that we experience throughout life that can make us feel low, anxious, overwhelmed, or lonely. Therapy Assistance Online (TAO) is a resource to build our knowledge of how we react to stress and to offer strategies to make stress feel more manageable.
Where Do I Start?
Once you register, you may find the TAO Assistant on the dashboard. Follow the TAO Assistant's prompt to find a module that addresses your primary concern. Or you can Browse All Content to look through all the topics and corresponding modules.
Here are some common topics:
Mindfulness
Browse All Mindfulness Exercises under the "Tools" section on the dashboard. Mindfulness is the skill to flexibly move your attention to what you are experiencing with openness and curiosity. New to mindfulness? Start with the module Mindfully Walking or Mindful Examination of a Leaf. Experiencing a lot of stress in your body? Start with Breathe in Peace and Energy.
Sleep Problems
Disruptions in sleep occur for many reasons. Feeling stressed at night? Try the module Relaxation. Often, behaviors get in the way of getting a quality night's sleep. Some of these behaviors include low physical activity, caffeine intake in the afternoon or evening, and doing homework in bed. Consider viewing the module Physical Exercise and Sleep Habits to learn more.
Problem-Solving
Stress, anxiety, and depression may arise from problems that we can or cannot solve. You may benefit from viewing the module Problem Solving Model to reflect on your own problem-solving skills.
TAO Tuesday Workshop
Need extra support to navigate this resource or talk about how TAO could specifically address your concerns? Consider attending the TAO Tuesday Workshop, a free, drop-in event that occurs every Tuesday from 3-4p virtually and in-person. UHC Conference Room C, 3rd floor. Join on Zoom through the UGA Involvement Network.
Written by: Hannah Craswell, Licensed Clinical Social Worker, Counseling and Psychiatric Services (CAPS)