Vision Clinic - Refractive Surgery (LASIK)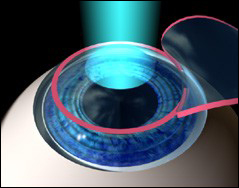 The UHC Vision Clinic Optometrists evaluate patients who are potentially seeking to have a refractive surgery to determine if the patient is a candidate for surgery. Upon determination that you are a candidate, the Optometrist will assist you in determining which refractive procedure and surgeon is best for you. Your pre-operatory and post-operatory procedures can be completed at the UHC Vision Clinic or at your surgeon's office.
Refractive surgery is a procedure that alters the eye tissue to correct for inaccurate focusing of the eye. In most cases these procedures result in reduction or elimination of the need for glasses or contact lenses to see clearly. As with any surgery, there are risks involved and it is important for patients to understand the risks before deciding if surgery is right for them. In addition, an ocular evaluation is needed to determine if a patient's eye health and ocular anatomy would allow for a refractive procedure to be preformed.
The following options are available to you:
Please contact our office for additional Lasik Information: 706-542-5617.