Stay up to date with UGA Campus communications and efforts to reduce the spread of COVID-19: coronavirus.uga.edu
COVID Vaccine Information:
UHC is open and here for you:
UHC provides primary, wellness and specialty care by appointment only. All UHC services are open and ready to assist you with your needs. We are open Monday-Friday, 8am-5pm (Pharmacy: M-F 8am-6pm and Sun 10am-5pm).
After hours nurse line*: If you are a patient of the University Health Center and wish to speak with a nurse for illness or injury advice, call 855-622-1909.
*Please note* This after-hours advice service is available only when UHC is closed. Call your 706-542-1162 during regular clinic hours.
UHC service updates to note:
UHC Pharmacy – Open for walk-in service for prescriptions and over-the-counter medications. We are also happy to bring your medications outside if you prefer; please park in the UHC parking lot, call 706-542-9979, and a pharmacy staff member will deliver your order to your car. To avoid delays, please order your refills prior to arrival.
*Open Monday-Friday, 8am – 6pm
*Open Sundays 10am – 5pm
UHC Vision Clinic – in-person visits are available by appointment only. Retail/repair services require an appointment. Contact orders may be made by phone or online thru the clinic's online store.
Each of the following services provide a telehealth option for care; please login to UHC Patient Portal and select "tele-health" or call the clinics directly for assistance.
Medical and Specialty care:
Wellness and Counseling Services:
Counseling and Psychiatric Services (CAPS)
Individual and group therapy
Psychiatry,
Consultations with faculty/staff
Well-being programs; please visit #BeWellUGA for updates on Fall 2021 schedule. Hours are Monday – Friday 8 AM – 5 PM.
24/7 Mental Health Support with a CAPS clinician
Take general precautions like frequent hand washing to prevent the spread of any virus, including seasonal flu, which is still active across Georgia and the U.S.
Please be vigilant about personal hygiene to ensure the best defense against the spread of viruses, including:

frequently washing hands, 20 seconds minimum with soap
sneezing/coughing into elbows
disinfecting hands frequently
avoiding touching eyes, noses, and mouths
avoiding kissing, hugging, and sharing of cups and water bottles
if not feeling well or immunocompromised, refrain going into public spaces and interacting with other people for a minimum of 14 days
For more information on how to prevent the spread of illness, visit the CDC.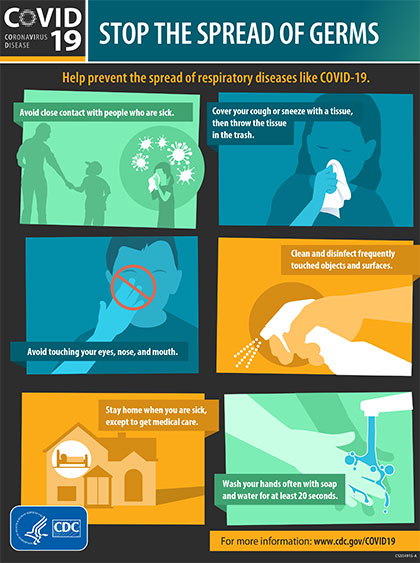 Please visit the CDC's travel website for additional post-international travel guidance.
If students are experiencing symptoms associated with COVID-19 contact the University Health Center by calling 706-542-1162. Faculty & staff are encouraged to contact their community primary care provider.
Visit the CDC site for recommendations around testing and international travel, as well as considerations before domestic travel. Do be aware that public health guidance is subject to change.
Always follow state and local recommendations or requirements related to travel.