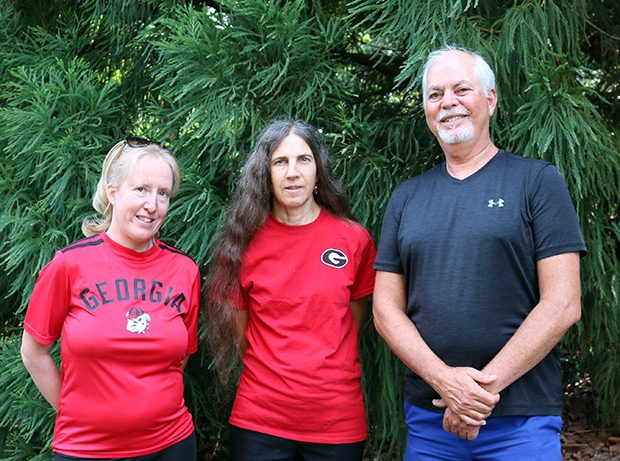 We specialize in Therapeutic Massage for the treatment of musculoskeletal ailments related to chronic and acute pain, stress, tension, and injuries.
Phone: 706-542-1259
Fax: 706-542-1466
Hours: Monday – Friday, 8 am- 5 pm Closed from 12:00 noon – 1 pm
Location: Massage Therapy is located on the second floor of the University Health Center.
Eligibility: Services are available to UGA students, faculty/staff, and their spouses/domestic partners.
Massage Therapy is available by appointment only on a daily basis. Appointments may be scheduled by calling 706-542-1259.
Massage appointments are reserved for a specific client. We request the courtesy of a 24-hour business day cancellation notice. No shows or cancellations of less than 24 hours are subject to a $30 fee.
Late arrivals will not receive an extension of scheduled services unless schedule permits. Late arrivals will be responsible for full-service costs.
UGA students who have paid their Health Fee pay the "Fees Paid" rate (FP). Students who have not paid the Health Fee, spouses/partners, and Faculty/Staff will pay the "Non-Fees Paid" rate.
50 minutes:
Fees Paid (FP): $60
Non-Fees Paid (NFP): $65
Packages (packages must be used as is, not combined/separated between multiple people)
(3) 50 minute massage sessions: $165 (FP) / $180 (NFP)
(5) 50 minute massage sessions: $260 (FP) / $285 (NFP)
(10) 50 minute massage sessions: $480 (FP) / $530 (NFP)
*Packages of 3 expire six-months from purchase date. Packages of 5/10 expire one year from purchase date.
Gift Certificates are available for purchase in the Physical Therapy/Massage Therapy Clinic (706-542-8634) or at the Cashier's desk (706-542-8621).
Referrals / Health Insurance
A medical provider may prescribe therapeutic massage, if massage therapy is deemed medically necessary for a patient's condition. A prescription for massage therapy is active for 30 days from issue (first appointment must be within 30 days). With a current health insurance card on file, the UHC will submit your charges to your health insurance. However, your coverage depends on your specific insurance/plan.
Prior to your massage appointment, please contact your insurance provider to inquire about your personal benefits and coverage.
For pricing and more information, please call 706-542-1259.
No referral required unless utilizing health insurance/savings account for payment.
Different Types of Massage
At the start of your appointment, your therapist will spend a few minutes asking you about what you need treated and what type of massage you are wanting. From there, the therapist will tailor your session according to your needs and what they find during treatment. Some of the massage types/techniques utilized include:
Massage therapy is a general term for health and healing practices involving touch and movement. It is a profession in which the practitioner applies manual techniques, and may apply adjunctive therapies, with the intention of positively affecting the health and well-being of the client.
The massage therapist will review your symptoms and needs and will ask you questions about your problem and condition. A variety of massage techniques are used to reduce tension and pain, improve blood flow, relax muscles, and provide a sense of well being and relaxation.
Privacy: Before your session, you will be asked to enter the room, undress (as much as you are comfortable with: most people undress down to their underwear), lay on the massage table, and lay a sheet over the top of your body. The therapist will use a sheet to drape you during the session to provide coverage and ensure that modesty is respected. After the session is over, you will be provided privacy while getting dressed.
How to Get the Most From Your Massage
Don't eat just before a massage session. Your body should have time to digest.
 
Be on time. It is quite difficult to relax if you arrive in a rushed state.
 
Try to be open-minded and receptive to the massage therapist and session.
 
Let the massage therapist know your expectations and reasons for the massage.
 
If you have a preference, communicate with the therapist if you like to talk or prefer to remain silent during your massage.
 
Provide feedback to the massage therapist advising on preferences.
 
Breathing properly helps us relax, so try to breathe normally.
 
Drink plenty of water after your massage; this helps to flush away any toxins released from your soft tissue.
 
Take your time when getting up from a massage. Try to take in how you feel, the effects of the session, and make sure you are not dizzy or light-headed.