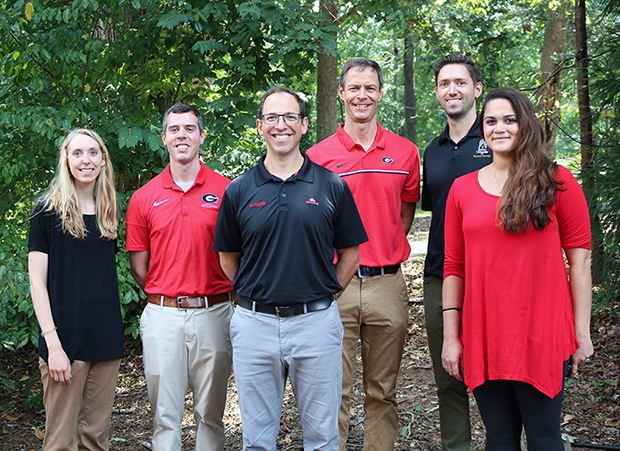 The UHC Physical Therapy department provides comprehensive care through evaluation, treatment, and education regarding musculoskeletal and neurological conditions, chronic or ongoing pain/dysfunction, acute sprains/strains, post-surgical recovery, as well as preventative care (optimization of health, fitness, and wellness).
While we treat common conditions and are proficient in foundational areas, our highly trained PTs have specialized knowledge, skill, and training in areas where they are passionate, such as:
Sports/function specific (running, overhead and racket sports, weight-training, field sports)
Chronic/persistent pain presentations
Pelvic and women's health services (vaginismus/vaginal pain, stress incontinence, abdominal/digestive pain, painful/irregular periods)
Temporomandibular (mouth, jaw, face) conditions and headaches
Vestibular, dizziness, and post-concussive symptoms
Post-operative care following orthopedic surgery
Phone:
706-542-8634 for appointments, questions, or referrals
Fax: 706-542-1466
Hours:
Monday – Friday, 8 am- 5 pm
Closed from 12:00 noon – 1 pm
Location:
The Physical Therapy Clinic is located on the first and second floors of the University Health Center.
Eligibility: Services are available to UGA students, their spouses, and domestic partners.
Appointments are necessary. Schedule by phone at 706-542-8634.
To schedule a complimentary screening, call 706-542-8634.
Call or schedule with your orthopedic specialist, primary care provider, gynecologist, or dentist to help determine if physical therapy is appropriate for you. UHC PT accepts referrals from in-house (UHC) providers as well as providers from outside of UHC. UHC main line: 706-542-1162.
If necessary, cancel or reschedule your appointment by 24 hours on the preceding business day to avoid a $30 missed-appointment charge.
Therapeutic movement (exercise prescription and programming for physical rehab and long-term health/movement goals)
Joint and soft tissue manipulation (Spinal, trunk, and extremities)
Dry needling (use of thin monofilament needle(s) in specific muscles/tissue to assist in management of neuromusculoskeletal pain and movement impairments)
Ergonomics, functional training, and neuromuscular re-education
Treadmill running and movement analysis and training
Blood flow restriction (BFR) training (use of specialized equipment to improve muscular hypertrophy, strength, and healing; especially useful when positive stress/load is needed but the limb cannot tolerate higher loads/strengthening due to atrophy, weakness, surgery, disuse)
Why Choose Physical Therapy at the University Health Center?
Individualized and customized care: 1 Physical Therapist with 1 patient (We do not double-book patients, and we do not use non-licensed employees e.g. rehab aides.)
Evidence-based and forward-thinking care utilizing current available research and clinical expertise
Cost-effectiveness with focus on addressing the underlying issues for long-term success instead of "band-aid approaches." The consensus has been that physical therapy works as well, if not better, than surgery for most conditions/issues where there are no "red flags" and saves time, money, and reduces risk.
We strive for patient empowerment and optimization of health. We help patients transition from injury to recovery, move functionally well while adopting healthy behaviors, and perform at a level where goals are met and knowledge is obtained on how to continue to thrive.
We work closely with and coordinate care with our Sports Medicine, Primary Care, and Gynecology clinic physicians and providers as well as other UHC departments (Counseling, Health Promotion, Dental).
Frequently Asked Questions
Getting Started and Scheduling
Billing and Payment Information
All students, spouses, and domestic partners are eligible to receive physical therapy at the University Health Center regardless of whether they have health insurance or not. In comparison to other clinics in the area, our visit costs are on average about 50% less. Our clinic's mission as a whole is to be the leading providers of physical therapy and massage therapy services by offering high quality, individualized, integrative and accessible care through treatment and education. Please contact our clinic for more information.
Every student has the option of where they would like to undergo Physical Therapy. It is VERY important to contact your insurance company PRIOR to your first appointment about your specific coverage. Call your insurance company via the phone number on the card, explain you have been prescribed Physical Therapy and that there is a clinic here on campus. Then ask what percentage or amount they will cover if you receive Physical Therapy here at the UHC.
Please note: Many health insurance companies have begun requiring pre-certification for Physical Therapy services, so YOU (as the patient) are responsible for contacting your health insurance company to verify Physical Therapy benefits and if Pre-Certification is needed before continual treatment. Failure to obtain Pre-Certification, if needed, can result in penalization from your insurance company. This means your insurance company is not responsible for paying the incurred charges. We are here to help you with this process. Any charges not covered by health insurance are the patient's responsibility to pay.
Physical Therapy Products Available For Purchase
Resistance Bands and Tubing
BANDS: Black (Extra Heavy) / Blue (Heavy) / Green (Med.) / Red (Light) / Yellow (Extra Light) = $6.00
TUBING: Blue (Heavy) / Green (Medium) / Red (Light) = $6.00
Foam Rollers for self-massage, stretching, and postural re-education
"OPTP Axis" hard/firm in various sizes:
  • 12″x6" (short) = $10.00
  • 36″x3" (long/full) = $26.00
  • 36″x3" (long/half-width) = $15.00
  • 36″x4" (long/narrow) = $16.00
"OPTP Pro-Roller Soft" in various sizes:
  •  36″x6" (soft/long) = $36.00
  • 12″x6" (soft/short) = $25.00
Custom Orthotics
$80.00 (FP) / $105.00 (NFP)
Back Braces
$43.00 (FP) / $50.00 (NFP)
Ankle Support Orthosis (lace up brace for post-ankle sprain)
"Hely-Weber Ankle Lace Up" = $29.00
Yoga Blocks
$6.00 OR 2 for $10.00
Yoga Straps
$4.00
Lacrosse Balls
$4.00

American Physical Therapy Association
www.apta.org
WebMD
www.webmd.com
UHC Wellness Coaching
www.uhs.uga.edu/wellnesscoaching