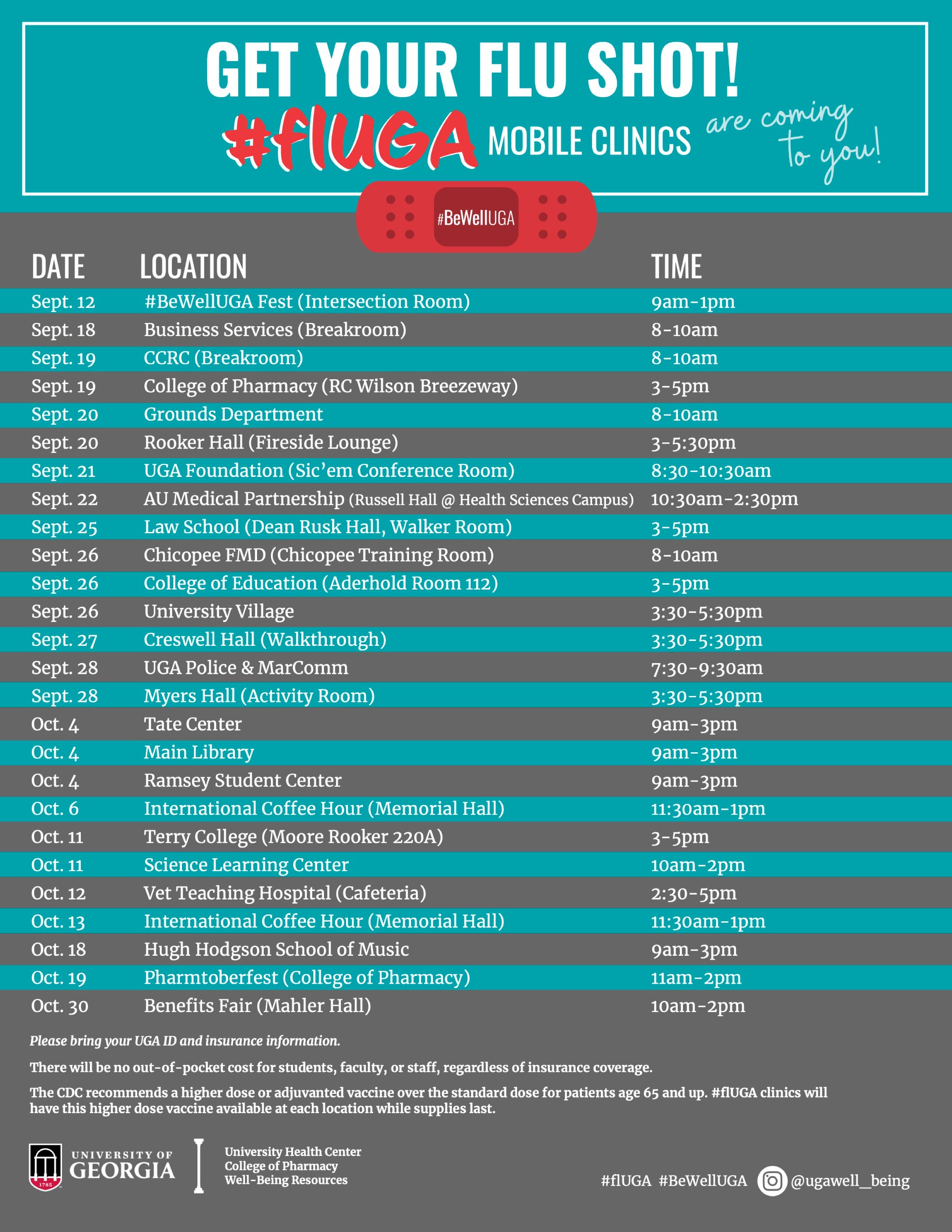 Walk-Ins

Walk-in flu shots are available in the UHC Pharmacy from 9:00-5:00, Monday - Friday.
Students

You may make an appointment online. If you cannot make an appointment within your assigned Medical Clinic, you may schedule one with the Allergy / Travel Clinic (TUE-FRI, 8:30am - 11:30am and 1:00pm - 4:00pm). Flu Shots will also be available during regular office visits. Avoid the wait by scheduling an appointment with your PCP in the Patient Portal or ask for the flu shot during your next visit.
Faculty and Staff

Please visit the UHC Pharmacy MON-FRI, 9:00am - 5:00pm for a walk-in flu shot or call 706-542-5575 to make an appointment at the UHC Allergy Travel Clinic.
FluBlok

An egg-free vaccine for patients with an egg allergy is available in the UHC Allergy Travel Clinic for $65.
Appointments

Available for UGA students, student spouses, current faculty / staff and their dependents (13 years and older), and retired faculty. You must first stop at the registration desk to verify your insurance and other information.
Cost

There will be no out-of-pocket cost for students wanting a flu shot, regardless of insurance status. We will file insurance for those that have coverage. Please bring your UGA ID and insurance card.
Sept 12, 9:00am-1:00pm – #BeWellUGA Fest (Intersection Room)
Sept 18, 8:00am-10:00am – Business Services – Break Room
Sept 19, 3:00-5:00pm – Miller Learning Center (MLC) – Study Rooms 201 & 202
Sept 21, 8:30am-10:30am – UGA Foundation – Sic'em Conference Room (Suite 204)
Sept 21, 3:00pm- 5:00mm – Law School – Dean Rusk Hall-Walker Room
Sept 22, 8:00am – 10:00am – CCRC Breakroom
Sept 22, 3:00pm – 5:00pm – College of Pharmacy, R.C. Wilson Lobby
Sept 23, 11:00am – 2:00pm – Medical Partnership, Health Science Campus, Russell Hall 228
Sept 26, 3:30pm – 5:30pm – Creswell Residence Hall
Sept 27, 3:30pm – 5:30pm – Meyers Residence Hall, Activity Room
Sept 28, 3:00pm – 5:00pm – Terry College (Moore-Rooker 220A)
Sept 29, 3:00pm – 5:00pm – College of Education (Aderhold 317)
Oct 5, 9:00am – 3:00pm – #flUGA Event – Ramsey Center
Oct 13, 2:30pm – 5:00pm – Vet Med Teaching Hospital, Education Center
Oct 17, 10:00am – 2:00pm – UGA Benefits Fair- Mahler Hall
Oct 20, 11:00am – 2:00pm – Pharmtoberfest – College of Pharmacy
FREQUENTLY ASKED QUESTIONS