Creating Routine for Success
Looking for ways to be more organized and prioritize critical commitments including self-care, academics, and finding ways to be involved in our community? Creating a routine that offers structure and flexibility can help you find a schedule that feels right for you!
Step One: Self-Care
Self-care is an important part of your physical, mental, and social well-being. Including things that bring you joy and help you to feel grounded can give you energy to accomplish daily commitments.
Taking a few moments to care for yourself can reduce stress and begin to establish a routine for your day.  To get started, try the following:
breathe deeply
stretch
make time for meals that fuel your body and mind
work on a creative project
set aside time to connect with others
establish a healthy sleep routine such as turning off electronics (including putting your phone down) 30 minutes before bed
Here are some questions to help you identify strategies that can best support your well-being:
What activities can help me wind down or encourage rest?  (i.e. journaling, movement or exercise, listening to calming music, meditation, etc.)
What "lifestyle" changes can I make to reduce my overall stress levels? (i.e. Setting up automatic payments for reoccurring bills, setting reminders on calendars for important dates including class assignments, setting reasonable limits on what you can accomplish in a day, creating a grocery list, establishing a cleaning routine, etc.)
Step Two: Organize by Areas of Wellness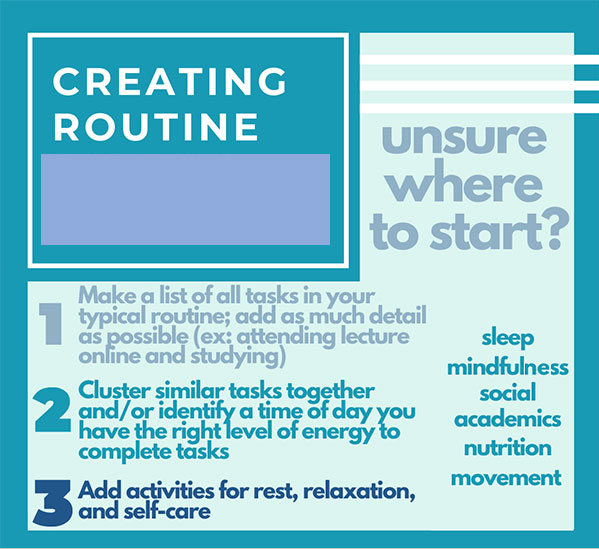 Once you make a list of important tasks you need to complete, group them by domains of wellness. For example, you might use domains such as Mental, Nutritional, Academics, and Social. Within each domain, list out everything you would realistically include in your daily routine.
This could be:
Mental: setting aside time to do deep breathing, listen to music, or exercise
Nutritional: preparing or eating food
Academics: completing a reading
Social: scheduling time to chat or hangout with friends
Once everything is written down, it is much easier to understand how much time needs to be dedicated to each category. Also, consider your typical energy levels during the day and when you prefer to complete different tasks (i.e. resting versus doing exercise).
Step Three: Calendar Blocking
Once you have your tasks organized by wellness domain, consider using the strategy of calendar blocking to create your daily schedule (see the sample schedule below). Calendar blocking involves breaking up your day into time blocks and then including one or multiple tasks in each block.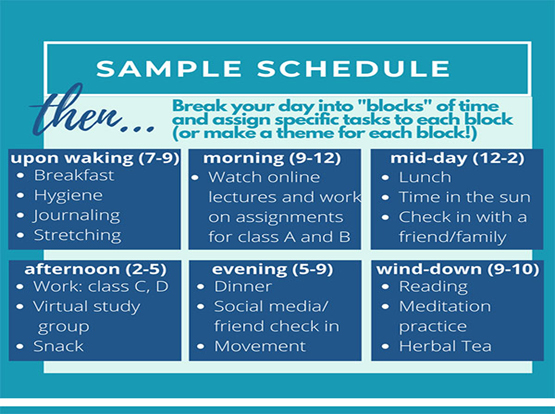 Pick blocks of time that feel natural for you. Remember, including different types of tasks in each time block can help you work through your most important items!
Tip: Look back on your schedule and adjust as things come up. Be flexible in what this could look like. The most important thing is knowing how you can intentionally use your time and have the confidence that there is time set aside to do the things most important to you.
Step Four: Stay Connected
Connecting with others can help reduce feelings of loneliness and keep you on track with your routine. Take time each day to check in with friends or family through video chat, calling, or in person connections. This can help promote keeping in touch and routine accountability. You may even find an accountability buddy in the process!
Interested in exploring any of these topics further? Give the Health Promotion Department a call at 706-542-8690, schedule a free and confidential Wellness Coaching appointment, and/or check out our campus-wide well-being programs.
We look forward to supporting you in any way we can!
Written by: Liana Natochy, , and Michael Money, former Case Manager, The Fontaine Center / UHC Health Promotion