Fall for $5 Cooking Classes
Did you know the University Health Center offers $5 cooking classes? During these classes, students participate in making a delicious meal while learning about nutrition and food prep from campus dietitians, dietetic interns, and Peer Nutrition Educators.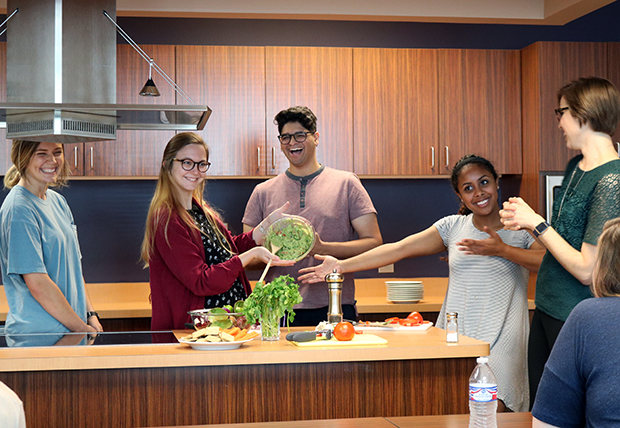 Check out the list of upcoming classes in October and November!
Sign up by calling UHC Health Promotion at 706-542-8690. Pre-registration is required, and these events are approved for FYOS credit!
---
Chicken and Red Cabbage Tacos with Cilantro Crème and Mango Lime Sorbet
Wed, Oct 20, 4:30 – 6:00pm
Vegetarian option available!
Festive Fall Breakfast: Pumpkin Pancakes, Mummy-Wrapped Sausage, & Sweet n' Spooky Spiders
Tue, Oct 26, 4:30 – 6:00pm
Join Health Promotion dietetic intern, Abby, to make a Halloween themed breakfast!
Friendsgiving 101: Mashed Potatoes, Turkey Meatballs with Cranberry Dipping Sauce, Sweet Potato Casserole, & Apple Crisp in a Mug
Tue, Nov 9, 4:30 – 6:00pm
Living in the residence halls but want to celebrate Thanksgiving style? In this class, our Health Promotion dietetic intern, Abby, will show you how to make twists on Thanksgiving favorites that can be made without access to a full kitchen.
---
For students in need of additional support resources:
The UGA food pantry is fully stocked and available for students in town. Students should call Student Care and Outreach to set up a time for pick-up (706.542.7774) or contact them via email at SCO@uga.edu with any questions. Information about emergency funding and Graduate Student emergency funding can be found here: Student Affairs emergency fund and Graduate Student emergency fund. Bulldog Basics is also still running for students in town. Students can request basic hygiene items here.
Written by: Beth Kindamo, Nutrition Education Coordinator, UHC Health Promotion