5 Tips to Know Before Using a Rideshare
Plans Matter.
If using a rideshare:
Check color, make and model of vehicle.
Confirm license plate.
Ask the driver to verify your name.
Stay together as a group.
Make sure cell phones are charged.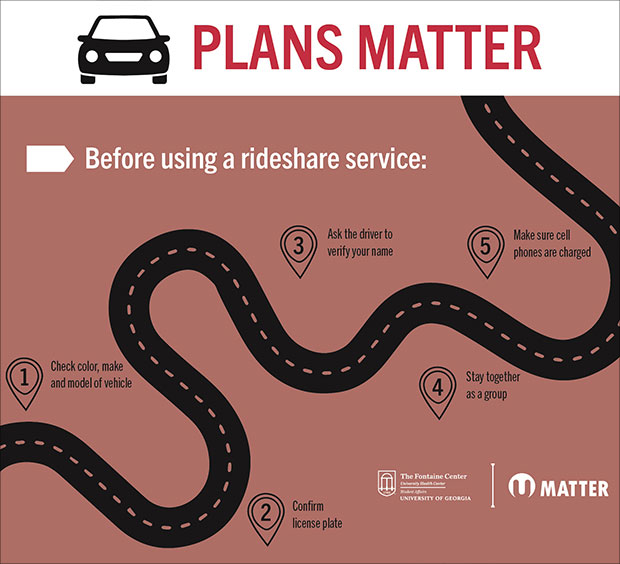 Going to be a Designated Driver?
If you plan to be a designated driver, your safety and the safety of those around you is important.  Here are a few tips to consider:
Limit the number of people in the vehicle to make sure everyone has a seat belt.
Have a sober friend join you.  They can help prevent interruptions from those around you so you can focus on driving.  A distraction like having them play a good song or letting everyone know you are making a pit stop for food on the way home can help make the trip go smoothly.
Make sure no one brings any open containers into the vehicle.
Giving everyone a ride home from a party or event? Consider bringing a non-alcoholic beverage with you in case they don't have non-alcoholic options available.
If someone is temped to drive after drinking (we know alcohol can impact decision-making), leave the car at home so it isn't even an option at the end of the night.
Support Resources
Looking for support to navigate substance use or recovery? Please call the Fontaine Center at 706-542-8690 and schedule a free consultation.
Looking for support related to interpersonal violence? Confidential advocates can be reached 24/7 by calling the confidential RSVP hotline at 706-542-7233 (SAFE).
Written by: The Fontaine Center