Being away from home can be difficult. You may feel as though you're missing out on things, you may be lonely, or you may not feel comfortable in your new home yet. Whether it is your first year at UGA or you're a senior, homesickness can impact you no matter how long you've been away from home.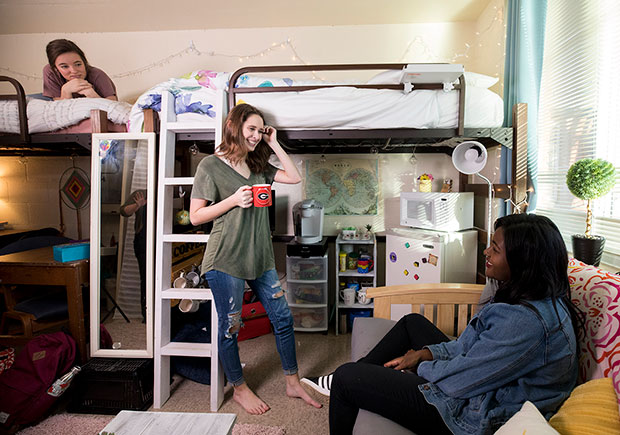 What is homesickness?
Homesickness is defined by Merriam-Webster as, "longing for home and family while absent from them." Homesickness emotions can cause students to experience feelings of loss and grief because people are away from what feels like home and an environment that feels normal to them. Students can also experience feelings of loneliness or FOMO (fear of missing out) because they're away from the people that they love.
What can you do to combat homesickness?
Bring a little bit of home to your home-away-from-home.
Make your home in Athens feel more homey by bringing some comfort into your space. Decorate your space with photos of loved ones, mementos that remind you of home, and things that make you feel comfortable and at home. These things can be a stuffed animal, a small plant, a blanket, or even artwork.
Keep in touch with home (but not too often)
Having scheduled phone calls and video chats with family and friends can help people feel supported – no matter the distance. However, be sure that you're not keeping in touch too frequently. This can lead to more feelings of isolation and homesickness because you aren't taking the time to get involved in your new community. Your friends and family back home are there supporting you but want you to be happy in your new home as well.
Become a part of the community/get involved
Get involved in the Athens community. Shop local. Volunteer. UGA has over 600 student clubs and organizations students can get involved with. You can find events and organizations through the Involvement Network or through the Engagement, Leadership, and Service department. Many students find organizations that connect to their interests, passions, hobbies and academics to get involved with. You can track your involvement through the Involvement Network as well.
There are a lot of resources on campus to support students who may be going through difficult transitions. UGA's Department of Student Transitions works to get students connected to campus resources and to help students learn strategies to help them navigate their collegiate experiences. For students who want wellness and mental health resources, Counseling and Psychiatric Services (CAPS) has individual and group services, crisis intervention, workshops and well-being and prevention resources. Student Care and Outreach is also available to assist students who may need more care and assistance for any hardships or circumstances that they may be experiencing.
If you live on campus, University Housing has resident assistants (RAs) and C.L.A.S.S. advocates (CAs) whose role is to support their residents and connect them with other residents. Student staff members, Residence Hall Association (RHA), and community councils host programs. These programs are opportunities to connect with people in the community and to get involved in something while living on campus. Reach out to your RA/CA if you are having a difficult time connecting or are feeling homesick. They can help support you and assist you in finding things to be involved in.
Campus resources:
If you or anyone you know are struggling with feelings of homesickness, please reach out to your advisor, an RA/CA, Student Care and Outreach, CAPS, or Student Transitions.
CAPS – 706-542-2273
Student Care and Outreach – 706-542-7774
Student Transitions – 706-583-0830
Unsure of what to get involved in? Find out more about engagement coaching.
---
Written by: Macy Reeves, Residence Hall Director, University Housing's East Campus Village