How to Eat a Heart Healthy Diet
Did you know February is Heart Health Month?
It's a good time to highlight the importance of diet on heart health. While cardiovascular disease is something that typically affects older people, as college students it's important to integrate heart healthy eating into your life now to set a foundation for a healthy life. While changing eating habits can be challenging there are some tips that can help with eating a heart healthy diet. You can also share this information with friends or family who may be interested in heart health.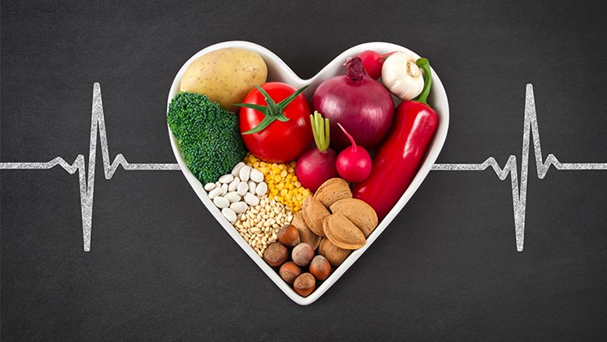 1. Eat a variety of fruits and vegetables
Fruits and vegetables are a great source of vitamins, minerals, and fiber. They also contain antioxidants that help reduce the buildup up of plaque in your arteries from cholesterol. When choosing fruits and vegetables, make sure to buy fresh, frozen, or canned with no salt added, and canned fruit packed in juice or water instead of syrup or sugar. Including a of variety of fruits and vegetables, especially dark leafy greens and red, orange, and yellow fruits and vegetables, is a good way to get more nutrients. Keeping fruit and veggies cut and washed in your fridge can make it easier to choose to eat them.
2. Choose whole grains
Whole grains are a good source of fiber and other nutrients that help regulate blood pressure and keep your heart healthy. Choose products labeled "whole grain" instead of products made from white flour, aka refined grains, in order to get the health benefits from whole grains. Some examples of delicious and inexpensive whole grains are oatmeal, popcorn, and brown rice.
3. Choose heart healthy fats
Generally, unsaturated fats are considered to be more heart healthy than saturated fats. Saturated fats are those that tend to be solid at room temperature; think fat that you trim off of meat, fats found in dairy products, butter, and tropical oils like coconut or palm oil. Limiting saturated fat in your diet is important in managing cholesterol levels which will lower your risk of coronary artery disease. Replace saturated fats with unsaturated fats, which tend to be liquid at room temperature; think olive oil, avocado oil, and canola oil. You can limit saturated fat by choosing lean meats, meat alternatives like beans or soy-based products, non-fat and low-fat dairy products, and polyunsaturated or monounsaturated fats in things like olive oil instead of products high in saturated fat like butter. Nuts and seeds are also sources of nutritious, heart healthy fats.
4. Reduce the amount of sodium (salt) you consume
Limiting the amount of salt in your diet is important to overall health. The Dietary Guidelines for Americans recommend limiting sodium intake to no more than 2,300 milligrams per day. This can help lower blood pressure which lessens your risk of heart disease. Some ways to reduce sodium intake include buying fresh, frozen, or canned veggies with no salt added, choosing packaged foods labeled with "low sodium" or "no salt added," reading food labels and choosing the option with the lowest amount of sodium, and choosing prepared meals with 600 mg of sodium or less per meal.
5. Limit added sugar
Added sugar contributes added calories, but without essential nutrients like potassium, calcium, or vitamin D. The American Heart Association recommends no more than 6% of total calories coming from added sugars. This is around 25 grams a day for women and 36 grams for men. Naturally occurring sugars, like those found in fruits or dairy products, shouldn't be counted towards this daily total.
6. Stay hydrated with water
Water is critical to heart health because by keeping your body hydrated it helps your heart more easily pump blood throughout the body. Choosing to drink water over other drinks is also a good way to reduce added sugar intake.
7. Get regular daily physical activity
Getting regular physical activity can help lower blood pressure, reduce stress, improve sleep, and reduce your risk of heart attack. Check out the American Heart Association's recommendations on physical activity for more information.
Source: American Heart Association
---
For students in need of additional support resources:
The UGA food pantry is fully stocked and available for students in town. Students should call Student Care and Outreach to set up a time for pick-up (706.542.7774) or contact them via email at SCO@uga.edu with any questions. Information about emergency funding and Graduate Student emergency funding can be found here: Student Affairs emergency fund and Graduate Student emergency fund. Bulldog Basics is also still running for students in town. Students can request basic hygiene items here.
Written by: Sophia Burnett, FDNS 5910 Dietetics Practicum Student, UHC Health Promotion Department