Eating Healthy on a Budget
Eating healthy on a budget can be hard for anyone, but it's especially hard for college students who are new to cooking and preparing meals for themselves. Eating healthy during college doesn't have to be hard or expensive, and it will get easier with experience. The following tips can help when trying to grocery shop without breaking the bank.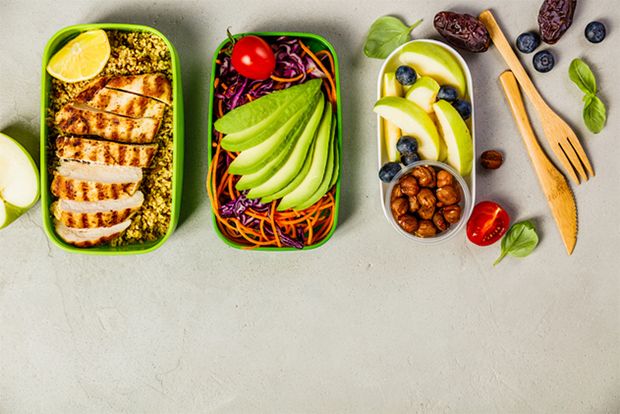 Set a food budget
Figuring out how much money you realistically can spend on food each week or month will help you plan your grocery trips better. When setting a budget make sure to take into account eating out as well as grocery shopping. Making your own meals instead of ordering take out is also a great way to save money on food. Don't forget to keep an eye out for events on campus that offer free food!
Make a grocery list / plan meals ahead of time
This may seem simple, but going to the store with a list can help minimize picking up extra items that don't fit into your budget. Having the meals planned that you are going to eat each week also cuts down on spending extra time and money in the grocery store. Did you know we have lots of easy and budget friendly recipes on the UHC website?
Buy in season
Foods in season are cheaper due to the larger abundance of that food. In season foods are also more nutritionally dense and taste better because they are consumed closer to harvesting time. Eat the Seasons has a list of what foods are in season each month in North America, but you can also tell by what the cheapest items in the produce section of the grocery store are. Shopping at local farmers markets is also a good way to buy what's in season, ensure that the food is fresh, and support local businesses.
Don't be afraid of canned or frozen foods
Canned and frozen foods are great to include in your diet because of their convenience and long shelf life. Frozen foods retain the most nutrients since they are frozen soon after harvest, which is the time at which the food contains the most nutrients. You can also freeze foods like bread, fruits, and veggies if you're not going to get a chance to eat them before they go bad, as well as buy things in bulk, like meat or grains, which typically saves money in the long run.
Skip pricey organic foods
Organic foods are often significantly more expensive than conventional foods, and studies have shown that they don't have a nutritional advantage over their conventional counterparts. Buying conventional foods over organic is one way to save money on groceries. If buying organic is important to you, consider purchasing through a member owned food co-op, community supported agriculture, or farmer's market.
Focus on fiber
Fruits, vegetables, and whole grains are all relatively inexpensive foods that contain dietary fiber which is beneficial to digestive and overall health. Making foods high in fiber the center of your meals will not only help your health but can save you money at the store.
---
For students in need of additional support resources:
The UGA food pantry is fully stocked and available for students in town. Students should call Student Care and Outreach to set up a time for pick-up (706.542.7774) or contact them via email at SCO@uga.edu with any questions. Information about emergency funding and Graduate Student emergency funding can be found here: Student Affairs emergency fund and Graduate Student emergency fund. Bulldog Basics is also still running for students in town. Students can request basic hygiene items here.
Written by: Sophia Burnett, FDNS 5910 Dietetics Practicum Student, UHC Health Promotion