Protein Powder: The What, Why, & How To Choose
With all the different protein powder supplements on the market it can be easy to get overwhelmed in picking the best option. Between whey, plant-based, and collagen proteins, it can be hard to decide which one is the best fit for you.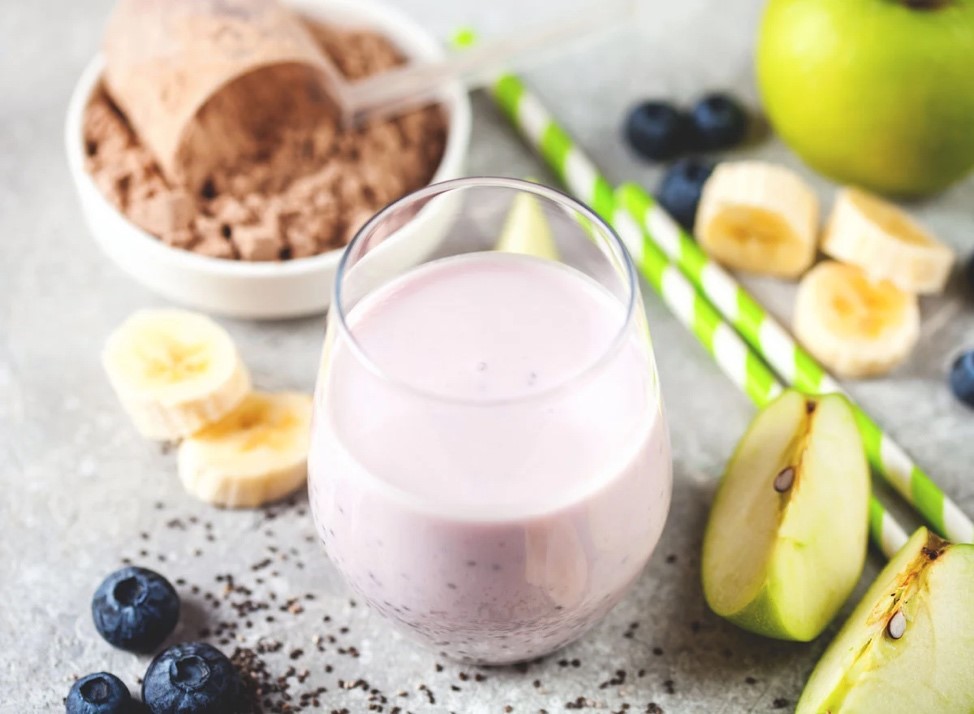 Protein is a key macronutrient that is a building block of muscle, bone, cartilage, and skin. It's important to eat enough protein as well as to get good quality sources of protein. Protein also takes a longer time to digest than carbohydrate, so it helps us to stay full longer and feel satisfied. Aim to get your nutrients, including protein, from foods rather than supplements where possible. Dietary protein sources include foods like nuts, seeds, meats, seafood, soy products like tofu and edamame, and beans.
While protein powder can be a beneficial addition to some people's diet, not everyone needs to supplement with it. It's common for bodybuilders and athletes to use protein powders to meet their higher need, however, most people already get enough protein in their diet. The Recommended Dietary Allowance (RDA) is 0.8 grams of protein per kilogram of body weight. This number can vary depending on a person's age, sex, activity levels, muscle mass, and health status. Most people will not need a protein powder, but they can be a useful tool if someone is not getting enough protein in their diet or wants to add an easy source of protein to a quick snack like a smoothie.
Types of Protein Powders
Whey protein and casein protein are animal-based protein powders made of dairy. Whey and casein protein are the types of protein found in cow's milk that are dried into a powder. They are considered high quality proteins that contain all the essential amino acids that you must get from food since your body can't make them. Collagen is another animal-based protein from the connective tissues of cows (bovine), fish (marine), or chicken. Collagen has been said to improve skin, joint, hair, nail, and gut health, however the research is limited, and these benefits are not conclusive.
Soy, hemp, rice, and pea proteins are common plant-based protein options. A lot of plant-based proteins, contain a combination of these in order to diversity the amino acids it contains so that it is considered a "complete" protein. A complete protein contains all 20 amino acids, including the nine essential amino acids our body cannot produce on our own.
Choosing a Protein Powder
For whey protein, there is whey isolate and whey concentrate. Whey isolate is a highly filtered form of whey protein and contains less than 1% of lactose. It has less fat, carbohydrates, and calories than whey concentrate and contains as least 90% protein. This would be a good option for people who do not tolerate lactose well or are looking to maintain muscle while losing fat. Whey concentrate contains between 70-80% protein, is higher in lactose, and is high in biologically active components you'd find in whole milk. This would be a good option for those looking for better recovery from workouts, and for building/maintaining muscles. Isolate is going to be more expensive than concentrate since it has more processing to filter out more fat and carbohydrates.
Plant-based protein powders can accommodate different lifestyles and people with dietary restrictions. They are higher in fiber and lower in fat than animal-based proteins. They are also nutrient dense and promote muscle growth. Some of these protein powders contain only one type of plant-based protein such as pea while others contain a mixture. Often times, the ones containing a mixture are considered a complete protein while the ones containing a single type are an incomplete protein. It is not necessary to choose a protein powder based on if it's a complete protein because as long as you're eating a variety of protein foods throughout the day, you'll get all the amino acids your body needs.
Since protein powders are considered a supplement, and therefore their content is not regulated by the FDA, look for one that is labeled as third-party certified. Third-party testing verifies that the ingredients on the label and the amounts are what is actually in the protein powder. Lastly, it's important that you like the taste and enjoy using the protein powder, so be sure to choose something that is aligned with your personal preferences; check the ingredients list for additional additives or sweeteners.
---
For students in need of additional support resources:
The UGA food pantry is fully stocked and available for students in town. Students should call Student Care and Outreach to set up a time for pick-up (706.542.7774) or contact them via email at SCO@uga.edu with any questions. Information about emergency funding and Graduate Student emergency funding can be found here: Student Affairs emergency fund and Graduate Student emergency fund. Bulldog Basics is also still running for students in town. Students can request basic hygiene items here.
Written by: Sophia Burnett, FDNS 5910 Dietetics Practicum Student, UHC Health Promotion Department