What Everyone Needs to Know About Fentanyl
The Georgia Department of Public Health (DPH) has received reports of increased overdoses (OD) in various areas of Georgia in March 2022, caused by drugs mixed with fentanyl, particularly cocaine, methamphetamine, and counterfeit pills that could resemble substances like Adderall or Xanax.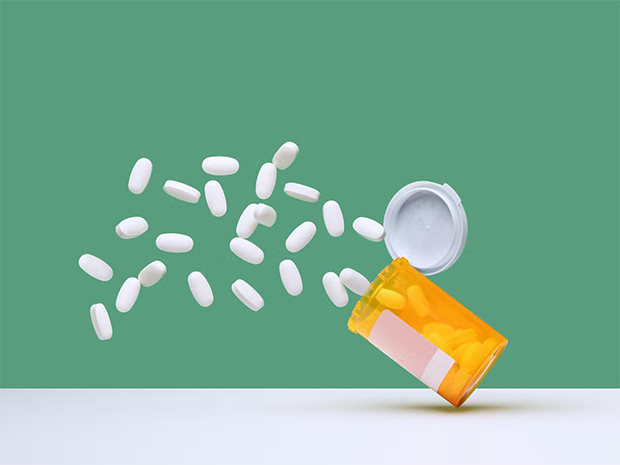 We have reason to suspect these substances and related overdoses will continue to show up across the state of Georgia.
During May 1, 2020 – April 30, 2021 in the state of Georgia, fentanyl-involved overdose deaths increased 106.2% compared to the previous year.
Here is what members of the UGA community need to know about Fentanyl.
What is fentanyl?
Fentanyl is a synthetic (man-made) opioid that is more than 50 times stronger than heroin or morphine.
Fentanyl can be mixed into recreational drugs being sold since it is cheap to manufacture, and a small amount can go a long way.
Why is fentanyl dangerous?
Fentanyl is commonly mixed into other substances without the knowledge of the person consuming it, leading to accidental overdoses or deaths.
While fentanyl can be added to any substance, it is commonly found in:
Patches
Capsules or tablets (like counterfeit pills that resemble Adderall, Vyvanse, or Xanax)
Powders (like cocaine)
And many more…
According to the U.S. Drug Enforcement Administration (DEA), nearly half of all counterfeit pills tested contained a lethal dose of fentanyl.

Important: While these drugs have tested positive for fentanyl by public health agencies, it's important to remember that any pill or drug sold on the internet, on the streets, or by a person you know could contain a potentially lethal dose of fentanyl.
Check out some examples below to see how a counterfeit pill can be designed to look just like genuine pharmaceuticals.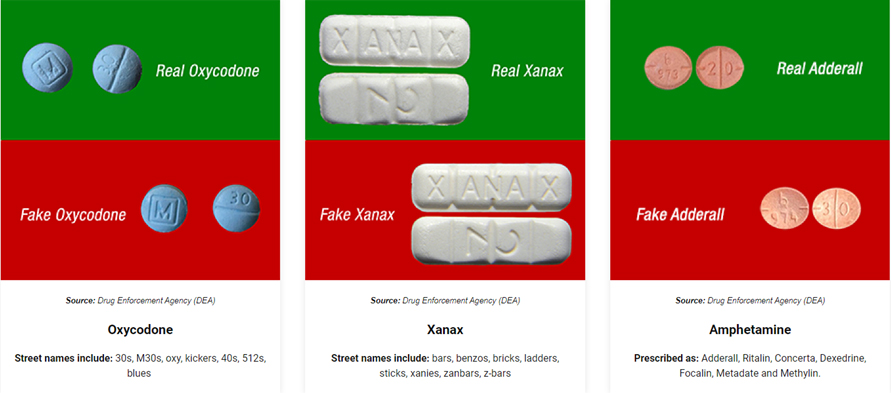 Tips to consider:
While fentanyl can be lethal, there are things you can do to look out for members of the UGA community. Here are some tips and strategies someone can use to prevent accidental overdoses.

Please note: Due to the unpredictability of fentanyl, there is no foolproof way to eliminate the risk of overdose.
1. Assume that any pill or drug not purchased directly from a pharmacy could contain fentanyl.
This includes illicit drugs (cocaine, heroin, meth, etc.) as well as prescription medications (Xanax, Oxycodone, etc.).
2. Be prepared to call for help!
Signs of an overdose:
Unresponsive
Small (pinpoint) pupils
Shallow or no breathing
Blue or grayish lips/fingernails
Falling asleep, extreme drowsiness
Gurgling/heavy wheezing or snoring sound
If any one of the signs is present:
Stay with the person
Call for medical attention
Don't wait to call for help if you think someone needs medical assistance.
If someone is seeking medical assistance due to the consumption of alcohol or other drugs, both the person calling for help and the person needing medical assistance, regardless of age, can be provided amnesty from certain arrests, charges, or prosecutions that would only occur due to alcohol or other drug consumption.
Under UGA's Responsible Action Protocol, students who seek emergency assistance for an alcohol or other drug related emergency may not be subjected to alcohol or other drug sanctions under UGA's Code of Conduct.
More information on Medical Amnesty and the Responsible Action Protocol can be found at: conduct.uga.edu/responsible-action-protocol/
3. Slowly decreasing use or tapering off of certain substances, like alcohol or Xanax, needs to be monitored by a doctor
If in need of immediate medical attention, call 911.  The Fontaine Center can provide consultations to confidentially connect students with medical professionals to assist someone looking to reduce their substance use by calling 706-542-8690.
3. Sobriety can reduce tolerance
If you've used fentanyl or other substances in the past and have recently experienced a period of sobriety, your tolerance for the drug has likely decreased. If you choose to use again, be mindful of potential changes in drug potency and start with a smaller dose than you might have used in the past. These strategies can help you avoid an accidental overdose or other unwanted experiences.
What resources are available for students?
The Fontaine Center at the UGA Health Center is here to help. If students have additional questions, are concerned about someone's use, or looking for support, students can schedule an appointment with one of the trained team members. Confidential substance use counseling or free educational consultations are available by calling 706-542-8690.
The Fontaine Center also houses the Collegiate Recovery Community (CRC) to support students in recovery from substance use disorders and eating disorders. To learn more about the CRC, please visit: healthpromotion.uga.edu/crc/
Drug Enforcement Agency. (2020, April). Facts about fentanyl. Retrieved from:
www.dea.gov/resources/facts-about-fentanyl
Georgia Department of Public Health. (March 31, 2022). DPH news release – Fentanyl overdose increases. Retrieved from: dph.georgia.gov/press-releases/2022-03-31/dph-news-release-fentanyl-overdose-increases
Messaging adapted from the University of Colorado Boulder Health & Wellness Services
Written by Kelly Truesdell, Assistant Director of Health Promotion and Community Outreach, Health Promotion Department