Welcome Back to UGA!
As students return to campus, connect with their peers, and enjoy the start of Fall, we all play an active role in maintaining a caring community at UGA.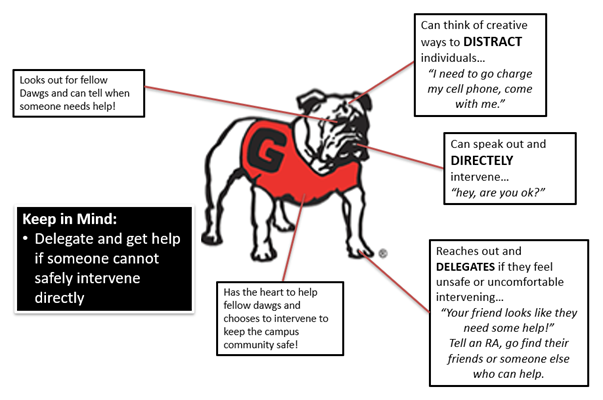 We Matter & Our Actions Matter
Look out for one another. If someone needs help, there are three strategies that someone can use: be direct, delegate to someone who can help in a safe way, or distract to re-direct attention away from what is happening.
Game Day Spirit
As we tee it up between the hedges on Saturdays and show our red and black pride, keep the following in mind to enjoy the day:
Stay positive. From the 2019 pink out, honoring USC's Forever to Three tradition, and applauding Notre Dame as they headed to the locker room, UGA has done a great job showing the nation that we care and support our competitors.
Keep personal items to yourself. Only discard items in appropriate receptacles to avoid causing injury while tailgating or at the game.
Our Actions Matter. If you see someone in need of help, remember to direct, delegate, or distract.
Game Day Tips
If engaging in game day activities keep the following tips in mind:
Fuel Matters. Make sure you pack non-alcoholic beverages and have snacks on hand. Not only can this ensure that everyone is staying hydrated with water and eating a balanced meal throughout the day, it also makes individuals who do not consume alcohol feel welcomed and included.
Plans Matter. Create a plan for the day. If using a rideshare service check color, make, and model of vehicle, confirm license plate, stay together as a group, and make sure phones are charged.
Measuring Matters. If choosing to consume alcohol, know what is in a cup. Measure out one standard drink at a time. For 80 proof liquor, this is 1.5 ounces.
Calling Matters. If you see someone who is showing any of the symptoms of alcohol poisoning, stay with them and immediately call for medical attention.
Alcohol Poisoning
Unresponsive
Vomiting while passed out
Slowed breathing / heart rate
Pale / blue lips or fingertips
Eyes roll back in head
Signs of Opioid Poisoning
Unresponsive
Blue / pale lips or fingertips
Shallow or no breathing
Gurgling, heavy wheezing or snoring sounds
Falling asleep or extreme drowsiness
Small pupils
Medical Amnesty & UGA's Responsible Action Protocol
If someone is seeking medical assistance due to the consumption of alcohol or other substances, both the person calling for help and the person needing medical assistance, regardless of age, can be provided amnesty from certain arrests, charges, or prosecutions that would only occur due to alcohol or other substance consumption.
What Everyone Needs to Know About Fentanyl
The Georgia Department of Public Health (DPH) has received reports of increased overdoses (OD) in various areas of Georgia since March 2022, caused by drugs mixed with fentanyl, particularly cocaine, methamphetamine, and counterfeit pills like Adderall and Xanax. Fentanyl is commonly mixed into other substances without the knowledge of the person consuming it, leading to accidental overdoses or deaths.
We have reason to suspect these substances and related overdoses will continue to show up across the state of Georgia.
While fentanyl can be added to any substance, it is commonly found in:
Patches
Capsules or tablets (like counterfeit pills that resemble Adderall, Vyvanse, or Xanax)
Powders like cocaine
And many more…

Please note: Due to the unpredictability of fentanyl, there is no foolproof way to eliminate the risk of overdose.
Assume that any pill or drug not purchased directly from a pharmacy could contain fentanyl. This includes illicit drugs (cocaine, heroin, meth, etc.) as well as prescription medications (Xanax, Oxycodone, etc.).
Not going to the game and looking for activities in Athens?
Check out our bucket list of things to do in our community here. Enjoy your Saturdays and Go Dawgs!
Support Resources
Looking for support related to substance use or recovery free to call the Fontaine Center at 706-542-8690. Looking for support related to interpersonal violence confidential advocates can be reached 24/7 by calling the confidential RSVP hotline at 706-542-7233 (SAFE).